Why Get a Good WiFi Adapter?
Almost every device now comes with WiFi, but old laptops do not. In fact, there are some very good gaming motherboard PCs that do not offer WiFi connectivity and will need to rely on other means such as ethernets or LAN cables.
However, having cables running around the room can be an eyesore and a potential trip hazard. One easy way to solve this is to get a WiFI USB adapter.
WiFi adapters are designed to provide quick WiFi access for aging laptops and devices. These plug-and-play devices are very easy to use and will give your PC instant WiFi capability.
If you search online, you can quickly discover that there are a lot of WiFi adapters available in the market. This makes picking the right one a bit more complicated.
In our article today, we will be discussing some of the top USB wifi adapters in Malaysia that will meet your budget and lifestyle.
Related Articles That You Might Find Helpful:
How to Pick the Right Adapter For PC and Laptop?
There are six important considerations to make when choosing the right adapter for WiFi:
USB or PCI?
There are two types of WiFi adapters: USB or PCI. The primary difference between them is how they're connected to a host computer. A USB adapter is more convenient because it's easy to install and operates just like a typical flash drive.
Many USB adapters come in small, portable, and antenna-free packages but their capabilities may be somewhat lacking compared to PCI.
PCI adapters come with multiple antennas and spatial multiplexing for maximum wireless-N throughput. But the installation process is a little bit more tedious compared to the plug-and-play USB products.
Choosing between a USB or PCI wireless adapter will depend on which aspect you require more: convenience or capabilities? The USB variant might be a better choice for laptops whereas the PCI would work well for a desktop.
Wireless Protocols
Wireless routers have the number 802.11. The letter after it will dictate the transmission protocol. 802.11b routers offer the shortest, slowest connection while the 802.11ac provides the broadest and fastest connectivity.
The key here is to make sure you pick an adapter that can transmit the same protocol as your router. If your router is 802.11ac, then you should also get a wireless adapter that's also 802.11ac.
Type of USB ports
Did you know even the USB port will affect your connection? The speed of your connection will depend on the type of ports you have. Computers with USB 2.0 are slower and you get a maximum theoretical speed of 60MB/s whereas USB3.0 can top out at 640 MB/s.
Gaming? Look at Wireless Frequency
There are two main wireless frequencies: 2.4Ghz and 5GHz. As a general rule of thumb, the 2.4GHz is great if your home has a lot of walls or if you don't expect much interference from other wireless devices.
If there are more gadgets using the 2.4GHz spectrum, then the 5GHz will be less prone to interference.
5.0GHz is faster but tends to suffer from signal loss over long distances. Some modern adapters support both frequencies to give you the flexibility to pick which signal you want to connect to.
Build Quality
Yes, there are various different models available in Malaysia, but the market is also saturated with low-quality models that promise great performance but in reality, won't even last a month.
In addition to its specs, you should also pay attention to the material used to build the adapter you like. Ideally, you should pick a dongle that offers the best balance between quality and cost.
Size
Some WiFi adapters are designed to be smaller while others can be bulky. More often than not, your computer setup will determine the size of your adapter.
USB ports are close to one another, so the adapter you want to buy should also be small or slim enough so as to not block adjacent ports.
If you're using a laptop, a small dongle will also be less likely to bump into other obstacles or break when you're repositioning or moving it.
What is The Best USB WiFI Adapter in Malaysia?
Asus PCIe-AX3000 WiFi Adapter
ASUS is a popular gaming setup company that has produced plenty of high-quality devices. One such example is the ASUS PCIe-AX3000 adapter with next-gen WiFi capability.
Designed to match the latest laptop or PC, this wifi adapter is equipped with the updated Wi-Fi 6, WPA 3 Security Standard, and Bluetooth 5.0 features to ensure your laptop is on par with the best rig.
The WiFi 6 (802.11 ax) ensures better efficiency and throughout with an ultrafast WiFi speed of 3000 Mbps to handle busy networks without breaking a sweat.
The wifi adapter does not have Beamforming but it does come with oFDMA and Mu-Mimo for faster and more stable transmissions. The wifi adapter also comes with a freestanding transceiver / external antenna and connecting cables for you to reposition as you like to reduce dead zones.
Why you should get this:
Next-gen WIFI standard
Updated drivers
Up to 2,402 Mbps
Lower latency with OFDMA & Mu-Mimo
External antenna with connecting cable
Netgear A6210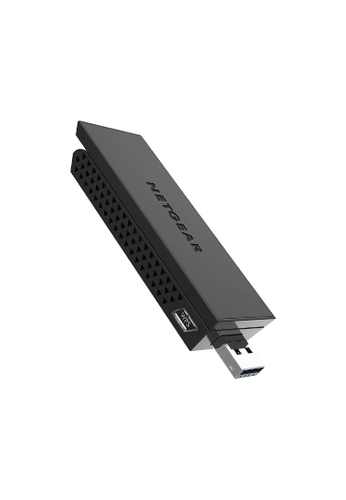 The Netgear A6210 is designed to make your older Windows-based laptops and desktops connect with high-gain antennas and USB 3.0. Offering a rate of 867Mbps on the 5GHz band and 300Mbps on the 2.4GHz, the A6210 wifi adapter offers a fast and seamless connection for a lag-free experience.
This wifi adapter is one of the best for gaming and this model even comes with Beamforming+ Technology for enhanced speed and range to lock in your signal for better stability.
With a Push 'N' Connect design, using this adapter is easy-breezy with just a push of a button. Another great thing about this is that you don't need to purchase a Netgear router for it to work as the adapter can adapt to any type of router.
Overall, the Netgear A6210 wifi adapter includes a number of features in its product to set it apart from the competition. The Beamforming+ technology, dual-band connectivity, and high gain antenna will ensure driver-level improvements in terms of performance and range.
Why you should get this:
More stable connection
Great for gamers
High gain antennas
Beamforming+
Easy to set up
TP-Link Archer T9UH
The Archer T9UH Wifi Adapter is a high-rated WiFi adapter that's perfect for your old laptop or to level up the WiFi capability of your gaming laptop.
The wifi adapter comes with an additional 3 meter USB 3.0 cable in case you want to place it further away from the PC or laptop. You can even open up the antenna to reach a further connection range.
The dual-band USB 3.0 wireless adapter supports both 2.4GHz and 5GHz frequencies to reach speeds of up to 1300Mbps. The faster 5GHz is ideal for faster lag-free gaming and HD video streaming while the 2.4GHz is good for normal casual browsing.
The dual-band support is even paired with an extended range of up to 90 meters to create multiple access points or wireless local area networks without getting a separate range extender.
The TP-Link dual-band USB adapter comes with Beamforming Technology to enhance performance and is even compatible with a range of Windows, OS X, and Linux to match all kinds of devices.
Why you should get this:
Long 3 meter USB 3.0 cable
Up to 1300Mbps
Support Beamforming
Totolink A2000UA
Looking for a cheaper alternative? Then the Totolink A2000UA is the perfect USB adapter for you! The dual-band USB wifi adapter comes with MU-MIMO technology to deliver up to 1167Mbps of data.
The wifi adapter supports next-generation 802.11ac wireless technology to ensure a better and seamless internet experience no matter what you're doing.
The wifi adapter also comes with two detachable 5dBi antennas for a more stable WiFi connection and wider coverage. Using this wifi adapter is also very easy with one click WPS connection.
All you have to do is to press the WPS button to enjoy a secured WiFi connection setup. The adapter also supports USB 3.0 for a faster connection.
Despite the affordable price, this wifi adapter offers qualities and features that put it a worthy contender with other premium wifi adapters.
With AC1200 speed, dual-band connectivity, and USB 3.0 features, this adapter is definitely a great alternative to speed up your network without spending too much money.
Why you should get this:
AC1200 speed
Dual-band
USB 3.0
Mu-Mimo to efficiently speed up your network
TP-Link Archer T2U
With more and more people living on the go, many devices are designed with portability in mind. More companies are placing emphasis on creating smaller and compact nano products that users can carry along with them in their pocket or backpack.
One of the best compact wifi adapters in Malaysia has got to be the nano TP-Link Archer T2U that offers great portability for those who travel or love to work in cafes or working spaces.
Despite the size, the wifi adapter is packed with the latest features to keep you connected to the internet. With a combined dual-band, the Archer T2U allows you to connect a PC or laptop to a wireless network of up to 600Mbps.
The 5GHz is perfect for streaming HD videos and lag-free gaming while the 2.4GHz is ideal for casual web surfing.
The TP-Link nano WiFi adapter also features WPA2 security features for you to browse the internet safely and securely without worries about intruders. This adapter also offers extensive compatibility that covers Windows, Mac OS, and Linux products.
Why you should buy this:
Compact nano size
Dual-band with up to 600Mbps speed
WPA2 security
Compatible with Windows, Mac OS, Linux
ASUS USB-AC68 Dual-Band AC1900
As mentioned above, ASUS is a popular gaming rig manufacturer and the company is no stranger to the demands of gamers. All their gaming products are designed with players in mind for the best experience.
This can also be seen in their USB-AC68 AC1900 USB WiFi Adapter that offers a strong and stable internet connection.
The performance of the WiFi adapter is a testament to the company's commitment to the gaming player. Thanks to dual built-in antennas and 2.4 GHz / 5.0GHz frequencies, the wifi adapter delivers rock-solid, fast, and stable performance.
The updated model is even able to provide up to 400% faster internet connection than the N900 generation of wifi adapters.
The ASUS USB-AC68 wifi adapter gives your laptop or PC instant signal coverage with the 3×4 MIMO design with AiRadar beamforming so that you can enjoy full Wi-Fi bandwidth throughout your home without all the messy cables.
Combined with a futuristic design, the cradle and extender will also appeal to gamers as they can be placed further away from the PC to cut down on any interference.
Why you should buy this:
Speedy
Solid range
Lag-free
Versatile
Cool design
D-Link DWA-182
Nano-sized WiFi adapters are great for carrying around with you wherever you go, but some wifi adapters might be so small that we could easily lose them or forget where we last put them.
That's where the D-Link DWA-182 wifi adapter steps in to solve this issue. The wifi adapter is compact but not too small such that it brings great qualities that match its competitors.
This wireless adapter delivers AC1300 speed to boast internet speeds up to 867Mbps on the 5GHz frequency and 450Mbps on 2.4GHz frequency.
The adapter also comes equipped with MU-MIMO technology for a stable internet connection – which is a very important factor to consider when you're halfway gaming or when you're on the edge of your seat streaming a very interesting HD video.
Finally, the adapter also has an easy WPS push button set up that's convenient to ensure a secure connection.
Why you should buy this:
Size of a modem
Supports USB 3.0 and MU-MIMO Technology
The dual frequency with 2.4 GHz (450 Mbps) or 5 GHz (up to 867 Mbps) bands
AC1300 speed
Easy WPS Push-Button Setup
Conclusion: Get Great Wifi Adapters with the Best Prices!
We hope today's article has given you enough information to make the right purchasing decision. While adapters all have the same function, they are built differently.
So it is best not to settle for the cheapest one off the shelf and spend a little time studying their specs before deciding.